The High and Puissant Princess Marguerite of Austria
Princess Dowager of Spain, Duchess Dowager of Savoy, Regent of the Netherlands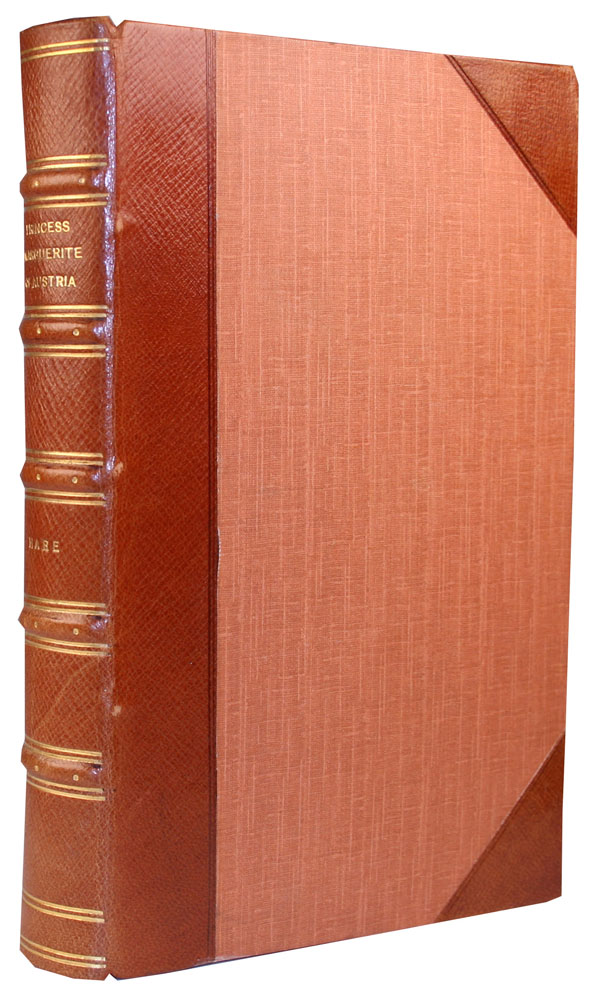 Harper and Brothers, 1907.
First edition. 8vo. Half bound in tan leather with tan cloth. Gilt lettering and decoration, with raised bands, on the spine. Marbled endpapers. All edges marbled. Illustrated throughout with black and white portraits. A near fine copy, with very slight scuffing to the edges.
Marguerite was born in 1480 as the Medieval period was coming to an end, the Early Modern period was beginning and European dynastic and religious wars were flourishing. Marguerite's father was the Holy Roman Emperor, Maximillian, she became the regent for Charles V, who became Holy Roman Emperor in turn, and so naturally Marguerite and her father corresponded regularly to discuss politics, religion and the leading characters of the day, including England's Henry VII (who wanted to marry her) and Henry VIII. These letters were held in the Archives of Lille and made available in early 19th C - here Hare has reproduced many of the most interesting (in translation) providing an acute insiders knowledge of a rich, turbulent and frequently violent time.
Stock ID: 21491
£75.00