An International Protest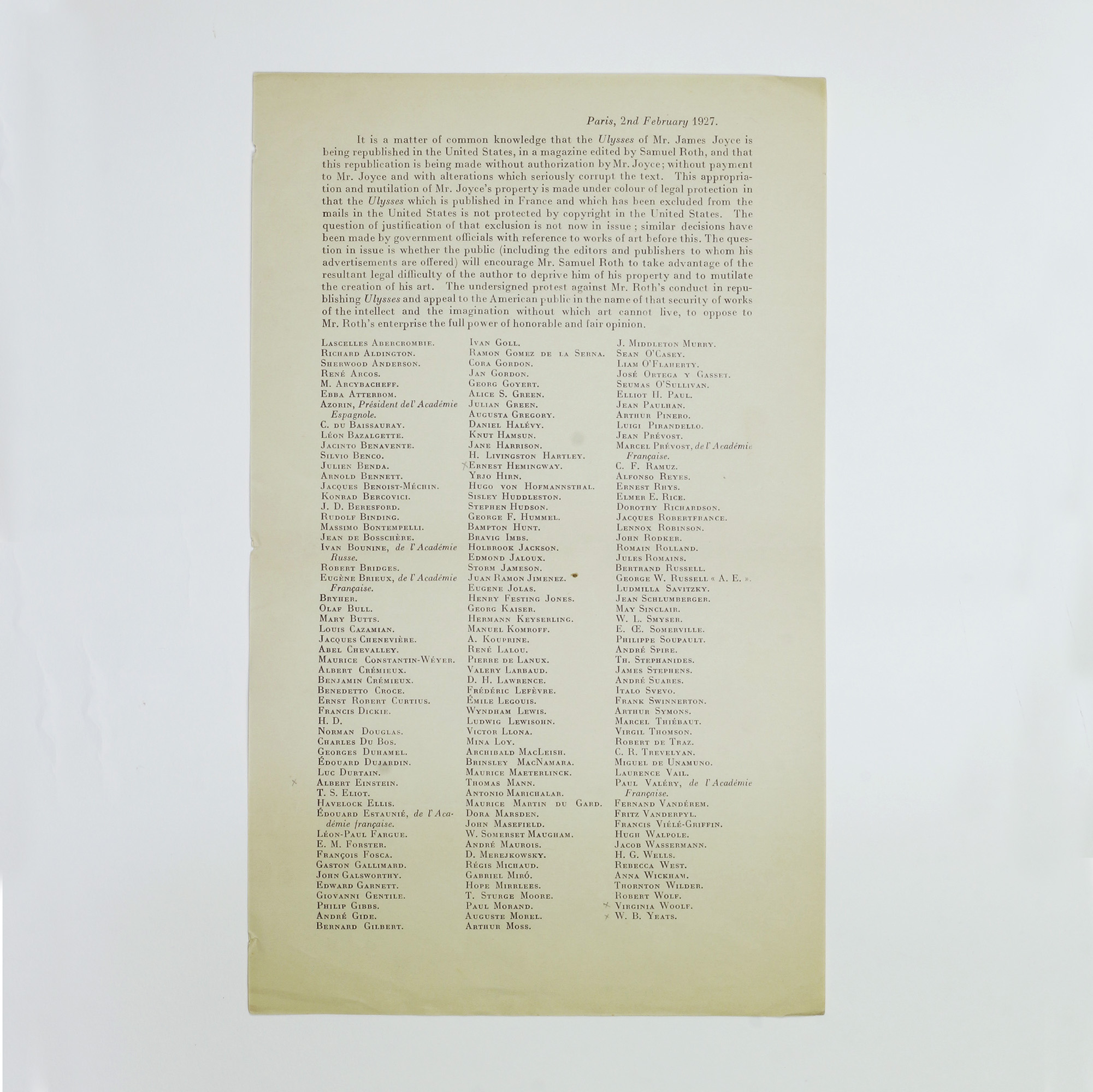 1927.
Single folio broadside leaf (347 x 210 mm) with text in English, held in clear plastic protector, bound into a rexine folder, itself held within a quarter morocco slipcase and chemise. Faint creases from folding, a near fine copy.
Joyce's protest against Samuel Roth's unauthorised serialisation of Ulysses.
Roth began to print bowdlerised portions of Ulysses in the inaugural issue of his Two Worlds Monthly, clearly against Joyce's wishes. However, as Ulysses was banned in America, Joyce had no protection under copyright law. Joyce sought an injunction, but frustrated by the slow-moving legal proceedings, drew up this protest with the help of his friends Archibald MacLeish and Ludwig Lewinson, to garner public support.
More than 167 literary and cultural figures added their names to the protest, including Wyndham Lewis, E. M, Forster, Albert Einstein, Ernest Hemingway, W. B. Yeats, D. H. Lawrence, Virigina Woolf, and T. S. Eliot. It was released to the press on Joyce's birthday, and later reprinted in the April 1927 issue of Transition. The protest turned Roth into a literary pariah but failed to restrain him from printing more instalments. The injunction against Roth issued on 27 December 1928 only managed to put a temporary stop to his activities: the following year he published a piracy of the novel under the fictitious imprint of "Shakespeare and Company, Paris 1927". This unauthorised edition, effectively the first American edition, was later used as a template by Random House for their 1934 edition, which remained the standard edition in the US until 1961.
Given its ephemeral nature, the original broadside is, naturally, extremely uncommon.
Stock ID: 36219
Sold
We have sold this item, but similar items
may become available in the future