INSCRIBED BY MACKENZIE FOR THE VICEROY OF INDIA
All Over the Place
Fifty thousand miles by sea, air, road and rail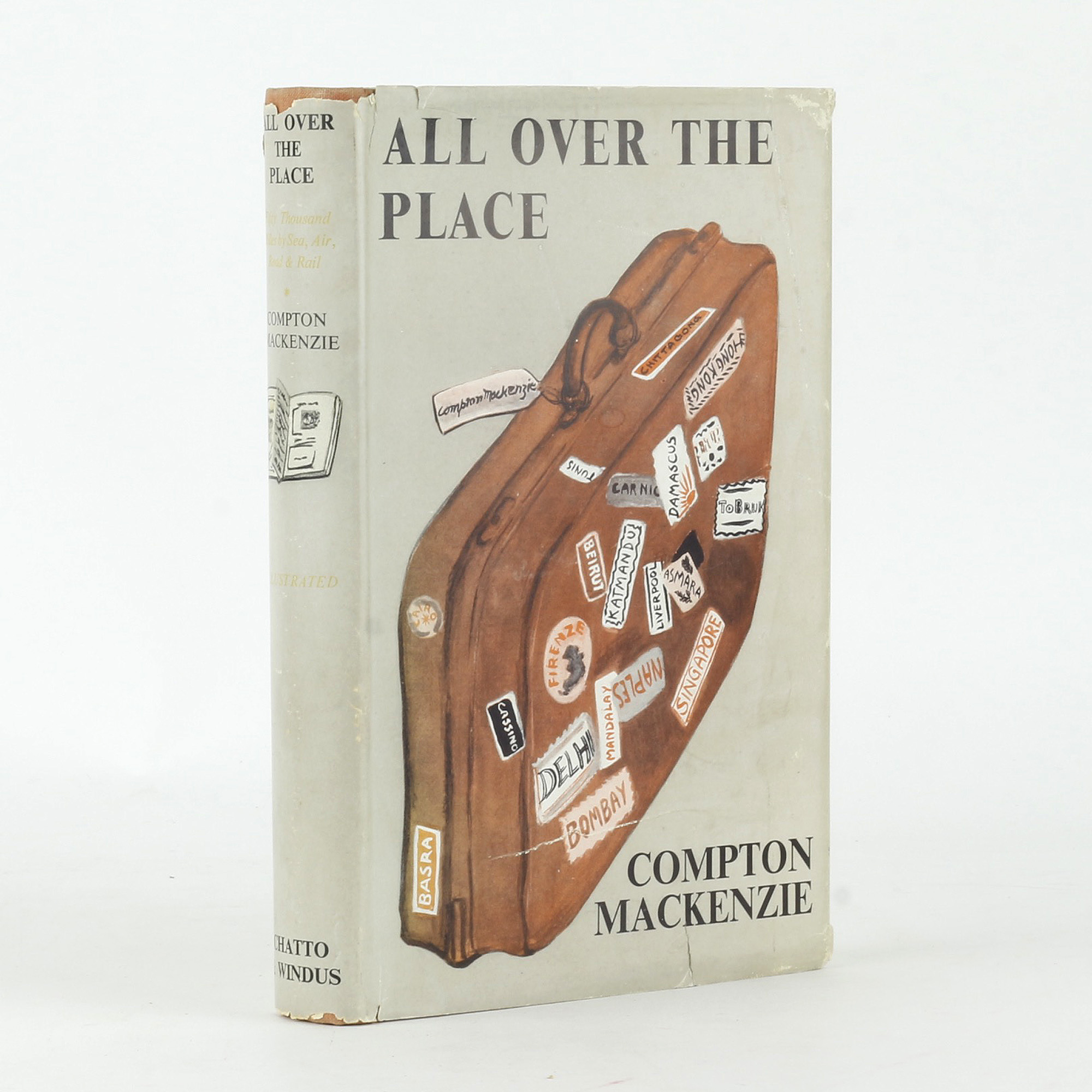 Chatto & Windus, 1948.
First edition. Original red cloth lettered in gilt, in the pictorial dustwrapper. Inscribed by the author to the penultimate Viceroy of India Earl Wavell on the front endpaper, "To F. M. Earl Wavell of Cyrenaica, from Compton Mackenzie Jan. 17. 49." With maps and 56 pages of photographs. A very good copy in a very good dustwrapper. Wavell's bookplate to front pastedown.
An excellent association copy. In the autumn of 1945, Compton Mackenzie was invited by the Government of India, of which Wavell was the head, to write a history of the contribution India made to victory in the Second World War. All Over The Place, published three years later, is the diary Mackenzie kept while travelling around India and surrounding countries researching the book. His research took him around Europe, India, Burma, Africa and the far east.
Wavell hosted Mackenzie whenever he was in or passing through New Delhi on this trip. In his diary Mackenzie warmly recalls these occasions, having "not met since he was a Major in the Black Watch in October 1916." Having told Wavell that Whitehall had suggested they should look over the typescript of the book before publication, Wavell advised " 'Don't let anybody tinker with your book. It has nothing to do with Whitehall.' He told me that if I wanted to consult any books his were at my service."
Writing about him after his death, Mackenzie reflected "When that great soldier Lord Wavell became Viceroy and Governor-General of India in 1943 he had to face perhaps the most arduous task any Viceroy was ever called upon to face, and with the help of Field Marshal Sir Claude Auchinleck, whose outstanding services as Commander-in-Chief have not yet been fully appreciated, Lord Wavell was able to carry on through those immensely difficult years of war."
Stock ID: 38062
£150.00